In order to find the best site maker for their project, many people look at website builder reviews which assist them in getting to know more about the website and make the right choice. Regardless whether you are building an online portfolio, an online store, or simply writing a blog, it's always important to do research before starting.
We try to give you as many details as we can in each website builder review in the form of pros and cons so that it is easier to comprehend. Besides, we try to go the extra mile by researching prices, customer support, email functions, comfort, and page templates. Our aim is to help you pick the best website builder for your site. We advise that you start with some free website builder reviews and work your way up to a premium if you need to.
The main reason why people use website builder is that they don't want to pay to a programmer or a company to do the website for them, but instead, they want to challenge themselves (and save some money) by doing it on their own. There are many free and paid site builders on the internet which focus on different things, for example, some have a simple interface, while others rely on many design customization options.
Examine the Website Builder Reviews
In this article, we have listed the best website builders according to us. Remember, most free site makers have the choice of buying a premium package with more storage, bandwidth, and other features which are unavailable in the free version. Another positive of the premium plans is the fact that there are no undesired adverts on the page, and the site URL doesn't have to include the subdomain name, which is crucial for businesses.
Some of the criteria we judge the website builders on include value to price ratio, overall performance, and if they are easy to use or not. Here is a list with all of the site makers we have reviewed:
Wix
Wix is a website builder which offers free page templates if the site is being hosted on their domain. In their website builder reviews you will find  lots of great designs, mainly due to their drag and drop Editor that allows you to create a good looking web page without knowing how to code. We can compare the process to making a PowerPoint presentation.
You can undo the recent changes you've done and go back to a previous version of your website by clicking on the Site History tab. Wix will also allow you to install third party services such as widgets for your Instagram feed or calendar. You can also redesign the mobile version of your site. One of their downsides is the fact that you can't change the template after you have started building your website, and you can only use 500MB of storage and bandwidth on the free plan. However, Wix is responsible for running more than 70 million websites and have many satisfied customers.
Weebly
Weebly is loved by people who prefer website builder reviews who have templates due to the fact that you can change them however you want, they look beautiful, and it's simple to use them. Thanks to the drag and drop features, you can add text, pictures, and other objects which can be found on the left sidebar. Unfortunately, you can't add these elements wherever you want. They need to be placed in specific areas of the page.
However, when you have fewer options for customization, this means that beginners can understand things quicker, and the themes they choose don't matter so much. You can also include maps or download the whole content of your website as a ZIP file, which makes the process of switching hosts way more convenient.
Even though the picture editing tools are not so impressive when compared to other website builders, you can still insert video and audio into your web page, in addition to creating an online store with the numerous tools available. Similar to Wix, here you can also change the mobile versions' design of your website. There is also the option of using an iPad app and building the website from it, as long as it's not for blogging.
You can't undo changes, but there is an auto-save option available. Weebly offers you unlimited bandwidth and storage, but you need to make sure that each file is smaller than 10MB.
Web.com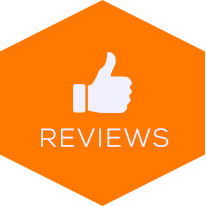 The website builder reviews says that this publicly traded firm is based in Florida and has marketing and web services for small and medium businesses. Customers can choose from a wide variety of templates, and when we consider the great customer support that web.com offers; it's not surprising the company has won awards, and its services are used by millions of people.
Unfortunately, the free plan is somewhat limited, so most start with the premium monthly package which has a .COM domain. Thanks to the "Website Coach" system, you can be guided by experts who will help you build the website and provide assistance after it has launched, which is perfect for beginners and people who run a business.
Squarespace
The noise around Squarespace is entirely justified – they have lots of features, a slick design, and don't cost much. The price range is from 8$ per month for the basic plan to 26$ per month for the Commerce pack. Even with the basic plan you get a mobile website, 2GB storage space, 500GB bandwidth, a custom domain, up to 20 different pages, and 24/7 customer support, which is a great deal.
According to the website builder reviews, Squarespace will provide you with an opportunity to create an HTML5-based website which focuses on commerce, but is also proficient in analytics and supporting mobile devices. There are buttons responsible for seeing a quick preview of how the content will look after you have published it in accordance with the theme you have chosen for the site.
Even though this website builder doesn't gel with third-party widgets as well as other site makers, you can add your own CSS, HTML, and JavaScript code and improve the functions of your website.
Squarespace also offers guides for people who want to import web pages from other websites, and forums/workshops for those who want to get quickly up to speed on all of the key features. One downside is that you can't tweak the mobile design, and there are no tools on the page.
eHost
This website builder is targeting the North American audience and has a $2.75 subscription which includes a .COM domain for free. It has a high price to quality ratio, and you can also take advantage of their excellent marketing services.
Webflow
This website builder isn't like the rest of the ones in the website builder reviews, mainly because it is targeted towards designers and design agencies that know their craft, but don't enjoy coding, so Webflow gives them the chance to experience CSS and HTML and then transfer it to WordPress or similar services.
They have a small number of good looking templates to choose from, in addition to tools for adding text, links, and similar components.
You can drag and drop stuff like videos, maps, and social media fees without knowing how to code thanks to their widgets. They also allow you to change the design of the website according to the resolution of the device, which is ideal for tablets, smartphones, and desktops.
Unfortunately, you only get 50MB of storage with the free package, but the premium one costs only 15$, and you can get a student rebate if you have a college email.
WordPress
This is probably the most robust service among the website builder site reviews out there because it's an open source content management system, so there are numerous free and paid templates out there for people to download.
WordPress is hard for beginners, but that's not surprising, considering that options and functions it provides, so you better dedicate some time and effort figuring out how they all work. WordPress' main strengths include templates for mobile devices, custom designs, and a wide variety of widgets for almost everything. They also give their customers information about the traffic, in addition to unlimited bandwidth and 3GB storage space.
Unfortunately, we wouldn't recommend WordPress for complete beginners because you need to have at least some coding knowledge due to the many features that this site maker offers. For example, changing the layout of a template can only be made by tinkering with the code. The downside of there being many plugins is that some of them are awful and may damage your website.
Because WordPress powers 1/4th of the internet, it's very unlikely that you won't find answers to any problems or questions that come up.
Shopify
Shopify is a great option for those who are looking for an eCommerce shop in the website builder reviews. It was created by three Canadian students who caused a disruption in the online store market by incorporating social channels, having premium support high-end apps.
Shopify has said that more than 200,000 shop owners use their software and the company has included some offline options, for example, a point of sale system. The downside is that they are relatively expensive, but you can try them out thanks to their two-week free trial and decide for yourself if it's the right choice for you.
GoDaddy
GoDaddy has been around since 1997, and since then they have turned into a popular brand all around the world. They are an excellent choice for those who don't have any technical knowledge and are complete beginners.
Their prices are competitive, but even though they are still a reliable brand, we think that there are better choices out there.
Bigcommerce
Similar to Shopify, Bigcommerce also specializes in helping people to set up online shops. They have responsive customer support, and the store has a wide variety of features. You will find different price ranges for their plans, which isn't unusual, but some people have found the prices to be a little too high. We recommend using the 15-day free trial before deciding to go for the premium plans.
One of the biggest advantages Bigcommerce has over its competitors is the great design and integration of mobile devices in the website builder reviews.
WebStarts
WebStarts focus mostly on creativity, and many people think of them as a great option for beginners who want a straightforward website builder which combines many features together.
Webs
This brand offers many awesome website templates among website builder reviews, which can be customized with different widgets and apps. The original name of the site was Freewebs, and it has been around since a lot of time, which makes it one of the oldest site builders out there. However, that doesn't mean it is outdated, in fact, Webs is always in touch with the latest apps in widgets that help customize your website, so we definitely recommend this site builder.
Useful Articles
The Performance of Web Applications (Customers are Won or Lost in One Second)
Mozilla's Firefox & Page Load Speed (

Shaving 2.2 Seconds off the Landing Pages

)