If you are looking for a site builder, then this Wix review may be the thing that will help you make a good looking and functional website. Many web pages are created by people who aren't professional web designers because Wix allows them to do that. Another thing you can get away with is not knowing how to code.
Features of

Wix

Mobile Friendly – Your website will look amazing on any device!
One-Pager Websites – Simple and beautiful one-page templates for you to start!
Wonderful New Templates – over 500 designer-made of any type!
Using by:

92m websites

Trail:

Yes

Rating:

4.8
Wix Review is known amongst other website builders for its innovativeness because they always add new design templates and tools. You can request features to be included, and if enough people want the same thing, their demand is almost always fulfilled.
The design templates always try to keep in touch with the latest trends so that you can do many things with this website builder, including making separate background sections, adding background videos, and building parallax designs, all of this without the need of having coding knowledge. That is one of the biggest benefits that they have to offer compared to other site builders. Other website makers aren't making so many improvements, but Wix tries to grow consistently and make improvements.
User Experience
Site editors like Wix allow you to drag and drop anything you want onto a blank canvas, which can also have its disadvantages because some sites like that can be unnecessarily disorganized and convoluted, but Wix is not one of them.
They manage to avoid the problems of other blank canvas editors by implementing small details, for example, if you add text to an element, the elements gets moved down and don't overlap. Another thing that they have added is an arrow at the top of the page which will let you see all menus so that you can preview your website. However, the reason for this is that sometimes things get a little too messy, which is never good.
Even though there are people who consider Wix Review to be too disorganized, the website builder provides their customers with a broad range of functions, and they can control almost any detail. You can build your pages by choosing from a wide variety of different elements, including buttons, icons, social media bars, audio players, and contact forms.
If this doesn't satisfy your needs, there is also an App Market, so third party applications are also available. A good example for a great external app is Tint. It allows you to have social media feeds (of Twitter, Facebook, etc.). Another useful addition can be Live Chat, and you can probably guess what it does.
The downside of this is that sometimes even Wix Review can't handle all of the options it offers. The editor can be complicated, and the elements of some apps are all over the place.
Site Building Options
Blog: Creating a blog with Wix is very easy – you just have to drop things onto the page and chose a layout for your website. You can also customize designs, but the "Single Post" and "Blog" pages need to be changed so that the blog does feel and look the same. Wix Review will assist you with your blog by providing you with cool elements that you can drag and drop. We are very impressed with the post editor, mainly due to its slick design. There are many other impressive features like scheduling, tagging, and categorizing posts, adding Facebook or Disqus comment sections, and saving drafts.
E-Commerce: There are many options that will let you customize your store page, for example, changing the language, the layouts of the products, editing button titles, and others. That way you can control these elements much better at Wix than at any other website maker we have reviewed. They have all the essentials for people looking to open up online shops such as coupon codes, shipping and tax rules, product options, and others. The only downside is that you can't change the receipt that the customer receives, something which can be done at their biggest competitors Weebly and Squarespace.
Form Builder: Unfortunately, this option doesn't exist. The only similar thing to it that you will find is a contact form which transfers the results to your email. It's still nice because you can change the success and error messages and send the outcomes to other email addresses, but you can't include new fields in the form. Even though you will find some apps in the marketplace, they don't function quite like we expect them to (plus you need to create an account with them).
Android and iOS applications: The only way you can edit your website is by using your desktop or laptop, which means that there is no support for mobile devices and tablets at the moment.
Retina Ready: Pictures look very sharp on devices that have a retina display like MacBooks or iPhones.
Newsletter: You can use the newsletter only with their email software, so forget about things such as Mailchimp and Constant Content. However, it's still decent, and you can customize it however you want.
Memberships: You can make membership websites by adding a signup/login feature. Wix allows you to approve members automatically or manually, and you can change pages so that they can be viewed only by members. However, you can't modify the sign-up form for memberships, but considering that Wix and Weebly are the only two website builders that have a decent number of membership functions, there is not much to complain about in this area.
Design: When it comes to creating a website from scratch and hosting, Wix Review is probably the best option in that regard. They have easy to use header and footer editors, in addition to many other great features such as a wide variety of navigation options, buttons, lines, arrows, and shapes. You can even change the background of your website to an animated one. There are also drop-shadows, custom animations, and many other options for you to choose. The only negative that we could find is you can't customize global styles, and you will have to change elements manually so that a consistent look can be achieved.
Languages: Hypothetically, it's possible to make a multilingual site, but it's a complicated procedure which includes duplicating all of your pages, and if you want to update your website at a certain point, you will need to do it in two places. That's why we wouldn't recommend creating multilingual websites if you are using Wix as your site builder.
Restaurant Menus: That's right; you can even create a restaurant menu by using The Menus by Wix application so that your customers can order takeout. You can choose from nine design templates and customize the text in them. Overall, we are very impressed by their menu editor.
Donations: Even though you can get a PayPal donate button, it just redirects visitors to PayPal's website where they can complete the process of making a donation, whereas a donation system will let the customers do this at your site.
Audio Player: You can choose from more than 30 different audio players.
Podcast: Despite having an audio player, Wix Review doesn't allow you to make a podcast feed.
Themes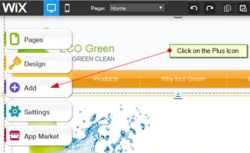 Unlike most other site creators, you can't change the template with Wix. After you have picked one design, it can't be modified anymore due to a bug with their blank canvas editor. That is far from ideal because many people change templates in the beginning until they find the one that fits perfectly.
You can customize the themes and use different buttons, icons, lists, boxes, and many more elements. Designing your own template from scratch is also an option.
As we mentioned earlier, Wix Review is a blank canvas editor, so at times it may seem a little disorganized. If you want to change your blog's sidebar, you will need to edit both the "Blog page" and the "Individual Post page", and seeing as it's quite difficult to make them completely the same; this may cause inconsistencies in your website. That is an area where we think that a more structured approach would be hugely beneficial.
Another negative coming from the lack of structure is that you can't have consistency when tweaking headings and paragraphs because you have to do it separately for each one. That makes it tough to achieve a consistent look.
Wix allows you to create a mobile theme for your website which is based on the desktop version, but you still have to tweak some things around, for example, the positions of the logos. However, despite this small inconvenience, we think that Wix did a good job with this, considering they are a blank canvas editor. We especially liked the "hide element on mobile" feature which can be really useful for some people.
Should you use Wix?
Wix is a great choice for those of you who don't know how to code, don't have a lot of money or time. It's easy to use due to their drag and drop features, a lot of people can afford them, and you can get a basic version of your website running in just one day, and then improve it afterward.
The key thing here is that you don't need to hire a web designer or a developer, pay him large sums of money and just sit around and wait for the website to be done. The best thing about Wix is that your site can be ready until the end of the day.
We mentioned that Wix Review is known for their innovativeness because they are always introducing new features, updating their designs, and making the overall experience more enjoyable for their customers. If your website grows bigger, then you can count on them keeping up with you and giving you the features you need.
How easy is it to use Wix?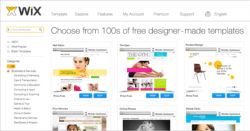 The thing which makes Wix so easy to use is the fact that when you enter something in the website editor, it will look the same way on the internet site after you publish it. Most people need about 30 minutes to get used to the features Wix has, which isn't a long time period compared to other website builders. Sometimes a user can get flustered quickly because there are so many tools that Wix throws at you in the beginning, and they all can be configured however you want. After this initial period, there are not many things that can surprise you, and things get intuitive fast.
Template Design
When we first saw the free templates that Wix Review offers their customers, we were very impressed because they look very much like designer templates. Wix tries to follow all of the latest trends, and this reflects on their designs which are regularly updated. That way you can have a good looking website even if you don't understand much about design.
There are two options for their customers to choose from – either using a pre-made template or just starting with a blank canvas. We would advise beginners to use the pre-made ones because the layouts are configured, so they just need to insert text and images. That way you save a lot of time from designing the whole thing yourself.
As mentioned in an earlier paragraph, you can't change the template after you have selected one, so make sure to test however many you want before choosing to stick with a template. If you want to change it after you've already chosen one, you need to re-upload all of the content (pictures and text).
Another downside is that you can't tweak CSS and HTML codes. That can be a problem for those who want to make specific changes to the design by tweaking the codes. If you are a beginner in website making and don't know much about coding, this probably won't affect you.
Resources and Community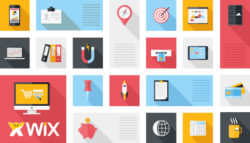 You can use their forum if any questions arise. Their support team will try to answer your questions as soon as possible because the public can see forums and this adds a level of accountability. You can also receive phone and email support which will allow you to call them between 6 am and 5 pm PST or just pick a preferred time when you would like to be contacted. There is a direct access for those who use the VIP plan.
Another helpful thing mentioned in the Wix Review is the operator's support center which will assist in setting up the domain name, email address, Wix Mobile, online shop, and other tools. Also, they offer not only text guides but also video tutorials to help you grasp the basics.
The community forum can be searched for questions similar to yours, which can end up saving you a lot of time if a staff member has already answered the question. We also said earlier that if you post your issues in the forum, there is more pressure on the support team to answer them because the questions are public. By going through their forum, you will notice that the support team answers many of the questions asked, which is always a good indicator.
Wix Mobile
Wix Review has a mobile editor that allows you to make changes for the mobile version of your website, and they won't apply to the desktop one. That is unique because not many website builders can offer you the option to change how your site will look on mobile devices and improve the mobile experience for them.
The Mobile Action Bar feature is another great addition from Wix. That is a bar which will appear at the bottom of your mobile site and will allow the visitors to contact you via phone, email or social networks, for example, if they tap on the phone icon, it will start a direct call with you.
That can be very useful for businesses that want to provide an easy way for the customers to contact them (easier than writing these details out).
App Market
The app market is something which you won't find at other site creators, and it has over 260 applications for you. The apps can be installed with a single click and are provided by external parties. Their goal is to let you build a better and more functional site. With them you can add functions, for example, email marketing, newsletters, contests, live chat support, booking tools, pricing tables, and many others.
There are more than 42,000 daily installations of these apps, which makes the yearly number around 15 million. That is extremely impressive and shows how useful the apps actually are. Customers can install cool new features and improve their website's functionality without having any coding knowledge.
The number of people who install the apps shown in the Wix Review grows bigger with each year, and considering that it's very rare for a website builder to have an app market, this gives them a significant advantage over their competitors.
Search Engine Optimization (SEO)
Some people state that site made with Wix aren't SEO friendly, but they are misinformed about this subject. You can see for yourself in Google's Webmaster Guidelines that Google recognizes Wix as a legit site builder (and lists them next to WordPress).
If this doesn't convince you, Gary Illyes from Google said that the algorithm doesn't differentiate between HTML and AJAX websites, so there is no special treatment. Considering that Wix websites are build using HTML5 and AJAX, Google should be able to recognize them.
With the Wix Review, you can also change the address of your web page – a function not available at many other site makers. That way you can make your web address consist only of keywords for search engines, which is a significant advantage regarding SEO. That way Google knows what your page is about and allows you to make a web address that is easy to remember. You can also tweak SEO descriptions, keywords, and titles for every page on your website. However, this is standard for all website builders, so no surprises here.
Prices
First of all, it's worth noting that Wix is much cheaper than hiring a web developer for your site. You can try them for free and see if it fits your project before spending any money. There's no time limit, so you can use the free option for as long as you like.
Some people think that the prices at Wix Review are high for a website builder, but after you've tried them out, you will probably find them reasonable for the product that they are offering. The price range is between $6.90 per month and $29.99 per month, depending on the package you choose. An annual package will save you between 30% and 45%.
Pros and Cons
Good looking designs
Easy to use drag and drop interface
Excellent customer support
Ads on the free plan
Can't switch to another template
Wix Review Final Verdict
Overall, we think that Wix is a modern website maker which allows you to create web sites with stylish designs. They have amazing templates which look like they cost a lot of money after you apply them to your site, and this is the area we think Wix has the biggest advantage over its competitors.
If you need an answer to a question, or a problem arises, they have a support center, phone and email support, and even a community forum, so you are pretty much covered.
Unfortunately, after you have selected a template, you can't choose another one for this website, so you need to spend some time carefully deciding if this is the right one for your site. Other websites allow users to change templates, so we definitely think that this is a negative for Wix Review.
We recommend starting with the free plan to see if this website builder is right for you and learn about some of its features. After you've tried it out, the decision whether to go for a paid plan or not will be a lot easier. Besides, you also get a 14-day free trial when selecting a paid package. There isn't a time limit for the free services that they provide.
Site Builder References
Google Temporarily De-indexes Wix Sites (Read Social Media)
Notable Tuesday Option Activity: ILMN, WIX, EXPE 

(WIX Options)