In this Weebly review you will see why this website builder is considered to be one of the easies ones to use, even for people who don't know how to code. All you need to do is use their drag and drop system to place elements like photos, products, or slideshows on your page without having to code anything.
It doesn't matter if you want a site for your business or just a portfolio of your interests, both things can be done with Weebly. That is one of the main reasons why we think that this site maker is a popular option amongst beginners.
Features of

Weebly

Drag and drop website builder – Over 40 million people have already used!
Integrated eCommerce platform – advanced eCommerce tools to create the perfect site!
Responsive themes – build a website, technical experience not needed!
Using by:

40m websites

Trail:

Yes

Rating:

4.7
Many customers are very pleased with the number of options that Weebly review has at its disposal, and considering the affordable prices (it even has a free plan), it's not difficult to see why there are so many positive reviews.
User Experience
Weebly is one of the website builders that really impressed us with the balance between power and ease of use that it has. The way you build sites is by adding text, pictures, and other things onto a page, which you can later rearrange in different rows and columns. Weebly has spent a lot of time and effort on designing these elements so that everything looks professional.
The page design of Weebly looks excellent, and if you click on a particular element, for example, the form builder, other parts of the websites will become darker so that you can focus on what you want to do at the moment. That may feel like a small modification, but it can be very useful for people who are having a hard time focusing on specific things.
Also, if you decide to work on a specific part of your web page, different elements will slide in and out of your view so that you are only left with the necessary things. When choosing a different background for your website, you will notice that the sidebar will disappear so that you can only focus on one thing at a time.
Weebly review also has an App Center that allows you to have custom applications and elements for your site. Let's look at some examples – thanks to the Simple Table app you can add tables, while Simple Chat allows you to include a live chat window for your customers. There is also the option of creating shipping labels for your online store by using the app called Shippo. The positive about this is that Weebly's design looks simple and clean, and you can still benefit from the numerous features they have in their app store.
Even though we think that the App Center is a great addition for the website builder, some of the applications on there don't have the quality standard of Weebly. To use the Open Menu feature, you need to create an account at a third party company, which isn't optimal. Also, Multilanguage has a terrible user interface, so you should definitely keep these things in mind when browsing the App Center.
One thing that we love about Weebly  is their page layout. You will find 34 different designs for things such as the about page, contact page, or simply a portfolio page. That way it's easy to combine them and make an overall page layout.
Features
Blog: Not only can you create a blog by using drag and drop, but there is also the option of picking a layout from a couple of different designs. Other cool features for bloggers include scheduling posts, creating different categories, making an RSS feed and including Facebook or Disqus comment sections. They also offer the option of using their comment system which has integrated moderation settings.
E-Commerce: Another thing which many people will probably enjoy is the fact that Weebly's e-Commerce section combines simplicity and power. Some of the features include importing products from other services, customizing email receipts, processing orders and coupon codes, and others. As we said, this feature not only has a lot of functions, but it's very easy to use. We think that Weebly review shares the first place with Squarespace when it comes to e-Commerce options for site makers.
Form Builder: That is another strong suit of Weebly. You can do many things with their file builder, for example, include checkboxes, addresses, dropdowns, textboxes, and even upload files. The confirmation of form submissions happens with a message or with the user clicking on a different URL link which will be sent to you. Not only do you receive the results from your forms to the email address, but there is also a database with the results, so deleting a form submission by accident will no longer be a huge problem.
Android and iOS Applications: Weebly has applications on almost all the main mobile platforms (iPhone, iPad, Apple Watch, and Android). We have been especially impressed with their tablet apps which are unmatched by any other site builder and allow you to create the design for your web page. You can make blog posts, see statistics, moderate comments, manage your store, and form entries by using your their phone application. The app for Apple Watch was created for things like notifications about your store such as orders, and checking stats. However, we haven't come across another website maker that has an app for Apple Watch, so this is very impressive from Weebly.
Retina Ready: We noticed that the images looked superb on devices which had a retina display like the Macbook or iPhone.
Newsletter: Weebly review offers a newsletter service, but it's only available if you subscribe to their email marketing service "Promote" which costs 8$ per month. Even though "Promote" is actually useful and easy to use, the price is what's really putting us off because it's not as good as other email marketing services like MailChimp, despite being simpler. We would have liked if Weebly added the possibility of connecting their newsletter widget to 3rd party services, for example, MailChimp.
Memberships and More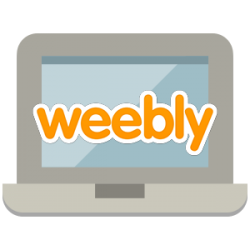 The membership service is probably one of their strongest points and actually puts them at an advantage when compared to other website makers. If you are looking to create a membership-based site, Weebly should definitely be your choice.

They offer you the option to make private pages that can't be accessed without registration. That can be useful for things such as making an intranet. Another cool option for site building is the ability to customize emails and groups.

Unfortunately, when it comes to Design, Weebly doesn't allow you to develop a website from scratch.
Languages: Thanks to the Multilanguage application which can be found in the App Center, you can include a floating icon to your site and let the visitors select a different language. However, we noticed that this icon looks more like a chat button, and its interface isn't very tidy.
Restaurant Menus: If you want to make a restaurant menu using Weebly, there are two choices – either go to the App Centre and download the application called Open Menu, or use the menu page layouts option. We think that the second choice is definitely better because these designs look good, and it's not difficult to customize them. If you want to use Open Menu, you will have to create an account at a third party company before being able to do anything, which isn't ideal.
Donations: We mentioned how good Weebly's e-Commerce options were, but it surprised us that they don't have official donation support. You can still use the DonorBox app which has a high rating by other users and gives you the options to accept donations, change the suggested amounts, or view the information of your donors. However, you still have to create an account with DonorBox.
Audio Player: Their audio player is fairly regular. It has only two skin options and doesn't support playlists.
Podcast: You can't create podcast feeds with Weebly review.
Themes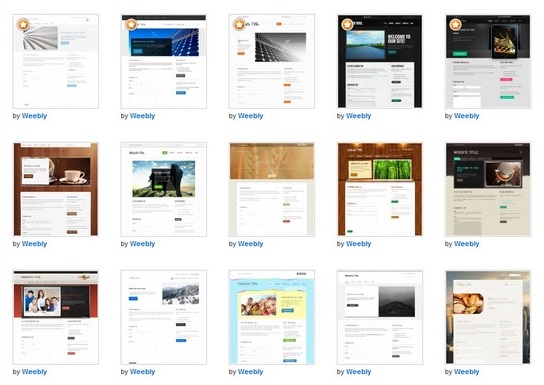 Before, Weebly review wasn't known for its good themes because they were average at best, but during the last couple of years, things became different. Now, you will find that the website builder offers many modern designs.
Unfortunately, there are some limits when it comes to changing the header of the site. You can remove things, but not re-arrange them. However, the same cannot be said about the footer which is entirely customizable, and you can do whatever you want with it.
Some stylistic options include changing the font, its size, color, and height. That can be applied to almost any element. The only thing that you can't tweak too much is the background color because you can pick from 5-8 different colors for most of the designs, which is pretty unimpressive.
All of Weebly's themes are compatible with mobile devices, but the newer ones are more responsive, while the older ones each have a mobile theme in addition to the regular one. We think that the responsive themes are a much better choice, and Weebly seems to agree with us. They have a similar look on both desktop and mobile devices. The separate mobile themes look slightly different from their desktop counterparts.
Should you use Weebly Review?
Weebly is an excellent choice, regardless whether you want to create a website for your business, online shop, or something else like photography, design, or a restaurant. Even though Weebly isn't the most advanced site builder, the fact that it's easy to use and will allow you to create a decent looking web page quickly makes it a great option. You don't have to possess any knowledge of coding, but if you do, it can be an advantage for you because you can change the HTML and CSS of your site. That allows for more customization options to the design.
How Easy is it to Use Weebly?
Thanks to the drag and drop feature, creating a website has never been easier. You see the website and can tweak different things without knowing how to code. The content can be previewed as you are entering it in editing mode, so you don't have actually to switch between edit and preview mode (like with WordPress) if you want to see how your website will look after it's been published.
When it comes to ease of use, we rank Weebly amongst the top site makers that we have reviewed in this category. They don't have many flashy features, but rather take a minimalistic approach to things, and that's why the whole process is so efficient.
Template Design
In the beginning, Weebly review didn't have many great designs, and their customers wanted improvements in this area. Now, the website builder can consistently offer templates that are better than the previous ones. You can also use the CSS/HTML editor and tweak the design of your site. This function is ideal for those who are code-savvy and want to change things up a bit.
Weebly also has a template marketplace where you can find third party template providers that offer their products at a reasonable price. Another great thing is that their newest templates are compatible with mobile devices.
One of the biggest negative about Weebly when it comes to template designs is that they are relatively basic. The users are demanding fancier design options like video background, page scrolling, page transition effects, and many others. Unfortunately, Weebly can't satisfy their requirements. If you want something more complicated, we recommend checking out Wix and Squarespace.
Pre-designed Page Templates
With Weebly, you have a choice of more than 40-page templates. This variety is ideal for those who don't know much about design and panic when they see the blank page at the start. You can choose from the most attractive page layouts and pick a design for your pages such as "About us", "Services offered", "Restaurant menu", "Portfolio", or "Contact".
After you've chosen the design you want, there will be some default content which can be easily replaced by your text and photos. You can also tweak the layout by moving things around. The pre-designed page templates give confidence to people who aren't design-savvy and just want their page to look right without having to pay anyone to do it for them.
Resources and Community
Weebly review isn't as complicated as other website builders, but they still have a live chat and email support. The people working there are helpful and answer quickly to your questions. Their support team became larger during the last few years because the number of their customers grew, so it's always nice to see a business that pays a lot of attention to customer support.
The options of contacting them include support tickets, phone, and live chat available between 8 am – 6 pm PST during work days. Their phone number can be found on Weebly's website. As a last resort, you can also ask them a question on their Facebook or Twitter. Weebly's online Support Center acts as a guide on how to build a website with the options provided by them.
Some site makers have a community forum, and their users can post new questions or search if they have already been answered there. However, Weebly doesn't have a forum at the moment. It's not a necessity, but having one is always a positive thing.
App Center
For those of you that want more complicated tools, you can find them at Weebly's App Center. The tools available at their website are basic, but they try to look out for all of their customers by providing advanced options in their App Center. The tools there can be installed on your website with just a single click of the mouse.
People who wanted more options for their site had to add them manually, but that way there is a chance that the web page can crash if the codes aren't compatible. However, all of this is unnecessary, thanks to the App Center. The options are integrated into Weebly, and you can add them simply by clicking on an "Add" button.
Most of the apps there are built by indie developers that are looking to service their tools. Some of them are free to use, while others cost money, but you can test them during a trial period and decide if you want to pay for them.
Memberships
With Weebly review, you have the option of creating a membership gateway that is completely under your control, so you can choose which parts of your website they can see. That is useful for people who are looking to make a membership club, create student courses, share private data with particular people, or only decide if the average user can see an individual page or not.
Many users don't need this option for their website, but it's always great when the site builder offers it. If you want to take advantage of their membership creation tool, it's necessary to have a subscription to their Pro or Business package.
The Pro package allows you to include a maximum of 100 members, but these members can't create an account from the sign-up button on your web page, so you would have to add them manually.
One of the main benefits of switching to the Business plan is that there's no limit to the members that you can have, and you can also insert a button which will allow them to register for a membership. This button can be located on the menu bar, or it can show up as a pop-up box. Each application for a membership can be approved or declined manually. You also get notifications from Weebly on your email if someone becomes a member.
Some of the membership options include creating groups and allowing some pages to be seen only by your members. The members can also benefit from a different login page and password reset. However, if you want to charge your members a fee, you won't be able to do that with Weebly for now.
Weebly Mobile
As we said earlier, the newest templates of Weebly Review automatically adjust so that they fit the screens of users who are on a mobile device. If you are using such a template, you don't need to do anything additional. Unfortunately, this option is available only for the newer templates that are mobile responsive. Most of the older ones aren't so you have to use the mobile editor to tweak the web version of the design.
There, you can use the "Mobile" option which will adjust your website so that it can fit on a mobile phone screen. You can preview the results and add different elements by using dragging and dropping them into the mobile editor.
Search Engine Optimization (SEO)
There is a myth that website builders don't do well when it comes to search engine rankings, but the fact that there are Weebly sites that made it to the front page of Google prove this to be wrong. The fact that not all people can do it doesn't mean that nobody can do it, so you have to be very persistent with it. Weebly review lets you use basic SEO functions like titles, keywords for each page, and descriptions.
If you use their free package, then your site won't show up on search engines, so you will need to switch to a premium package if you want that to happen. Of course, this isn't ideal for those of you who want their site to show up in search engines, but don't want to use a paid plan. However, we think that paying for your website is a necessary step for those who are serious about their project.
Another thing worth noting is that even if you web page shows up in search results, this doesn't automatically mean that it will have a high rank. If you want to view your website's stats, Google Analytics or Weebly's statistics dashboard are decent options. The best thing to do in this case would be to combine these two in order to maximize the overall benefit from them.
Hosting
With Weebly review, you don't have to worry about hosting, even if you are a user of the free platform because they will take care of everything and you don't have to pay additionally. That way you can dedicate your focus towards building a website. Weebly does all of the hosting updates for you and handles security matters as well. Another positive is that you can archive your site if you want to move it to a different host later.
Service Prices
The free version of Weebly doesn't limit you to a specific amount of pages, and you can use the basic tools that they provide. However, if you're looking to use all of the options offered by them, then switching to a premium package is a necessity.
Their monthly prices for the Starter, Pro, and Business packages are 8$, 12$, and 25$, but this is if you pick the one year plan, so this means that you can save a lot of money by signing up with them for two years. For example, the Starter plan becomes 5$, the Pro plan 9$, and the Business plan 21$. This amount may not seem big right now, but it makes a huge difference in the long run.
The Business Plan was made for people who will focus on building an online shop and sell their products there, so if that description fits you, then we would recommend going with their most expensive plan.
Pros and Cons of Weebly Review
Pre-designed templates
Amazingly easy to use drag and drop interface
Mobile compatible layouts
Basic design of the templates
Not many customization options
The blog feature could use improvement
Final Verdict
Overall, we think that Weebly is one of the simplest site builders for people to use at the moment. That is reflected by their layout which shows only the most necessary stuff that you will need and won't confuse you from the beginning.
It doesn't matter if you are a beginner and don't know much about website building because Weebly review is well suited for those people. A wise thing to do is to sign up for their free plan, then figure out how to use the options that they provide, and then decide whether to make the switch to a paid plan or not. A positive is that you aren't pressured by time and can use the free option however long you want.
Read More on The Web
Which are the Best Site Builders of 2007 (Website Services offered by Weebly)
Weebly is The Warp Drive Of Website Building (More Than a Well-Established Name)